From an accent wall to an entire room, wallpaper is an easy and effective way to transform your home. Here's how to select the best fit…
What's the reason – Why do you want to wallpaper? To add warmth, elegance, texture, depth? Also, how do you want to feel when you look at it? Calm, invigorated, happy, inspired, transported to another place… This will all influence the type of design you choose. For instance, for a romantic feel, you would perhaps consider delicate damasks and florals with fine lines in muted, pastel shades. It's all about the story you want to tell.
Play to the room's strengths – Unless you're using the wallpaper as the basis for a complete room makeover, work with the colours, textures and furniture pieces you already have. Also, if you frequently change the look of your home, it may be a good idea to stick with subtle wallpaper patterns that 'play well with others'.
Less can be more – With wallpaper, sometimes less is more, so opt for papering a feature wall – especially if you're thinking along the lines of a geometric theme (such as triangles and squares in multi-coloured or bold, monochromatic designs). Or choose a dramatic pattern to highlight an area of a room, such as behind a bed.
Trends come and go… so what – The most important thing when choosing wallpaper is that you love it. Everything dates eventually or goes out of style, only to come back into style again somewhere down the line. Don't worry about the trends – go with what you want. Having said that, if you are trend-conscious, you can't go wrong with metallic accents, high-gloss finishes and large-scale floral prints right now.
Choose the right spot – Consider how the room is used, and how often, when choosing your wallpaper pattern. Spaces where you spend the least amount of time are often great spots for 'dramatic' wallpaper, such as entrance hallls, stairs and guest bathrooms. Studies and dining rooms are also good choices. Lighting (the abundance or lack of it) is also an important factor to consider before you make any wallpaper choices. To reflect light around a room, choose light colours and those with metallic or iridescent inks. Also consider patterns with smooth surfaces, which reflect light. Dark colours absorb light, making walls appear closer and the room smaller. Textured wallpapers also tend to make a wall look darker.
Create the illusion of space – Wallpaper with a vertical or horizontal pattern can help emphasize the height or width of a small space, while wallpaper with a light background also makes a room look bigger. Conversely, large patterns can overpower a room and make it seem smaller, as can dark.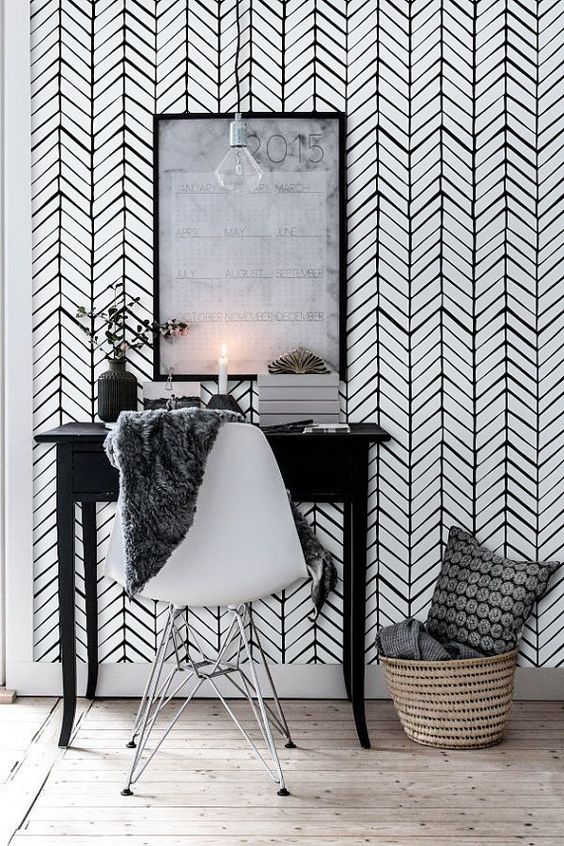 Go beyond the traditional – Textured papers that mimic brick, stone, marble, cork, leather, fabric or wood, add warmth and coziness to a space. They also give walls some dimension and help cover imperfections.
Mix and match carefully – When mixing patterns and designs in a room, or between adjacent areas, choose ones that repeat the same colour or shades of that colour, otherwise you run the risk of it looking far too busy and chaotic.
Picture it – Collect images of rooms with wallpaper you love, from your favourite décor sites, blogs and magazines to snapshots you've taken in a restaurant, store or hotel. See if a certain look or theme emerges from them, as this will help you narrow down your choices.