One of the perks of working for SA Home Owner is getting to see – and indulge in – a wide variety of exquisite homes on a daily basis. There are, however, a few that are truly special and stand out from the crowd. Over the next few weeks we'll be bringing you a selection of "stand-out" rooms from the homes featured on the pages of our magazine. Here are some of our favourite kitchens.
The architect of this home worked on bridging the gap between the old and the new. The use of warm materials such as timber and facebrick in a triple-volume space added a traditional farm-style edge, while making the home modern and industrial.
This large and welcoming kitchen has designated areas for cooking, dining and relaxing, including a bay window, which overlooks the landscaped garden and water feature.
Elegant with a touch of glam, this kitchen was designed and manufactured by Designer Projects. High-gloss sprayed materials give this space a sleek look, while the mirror-finished, integrated extractor, installed within the bulkhead, enhances the contemporary feel. And for that "wow" factor: the glass doors have been finished in a patterned vinyl.
Bakos Brothers, through its kitchen division, was responsible for the installation of this timeless kitchen, and by using neutral, light colours, there is a sense of openness, which enhances its modern appeal. The simple design of the kitchen and cabinetry has established a space that oozes elegance; here there is no room for clutter, just clean lines complemented by a few focal points, including the suspended pendant lights.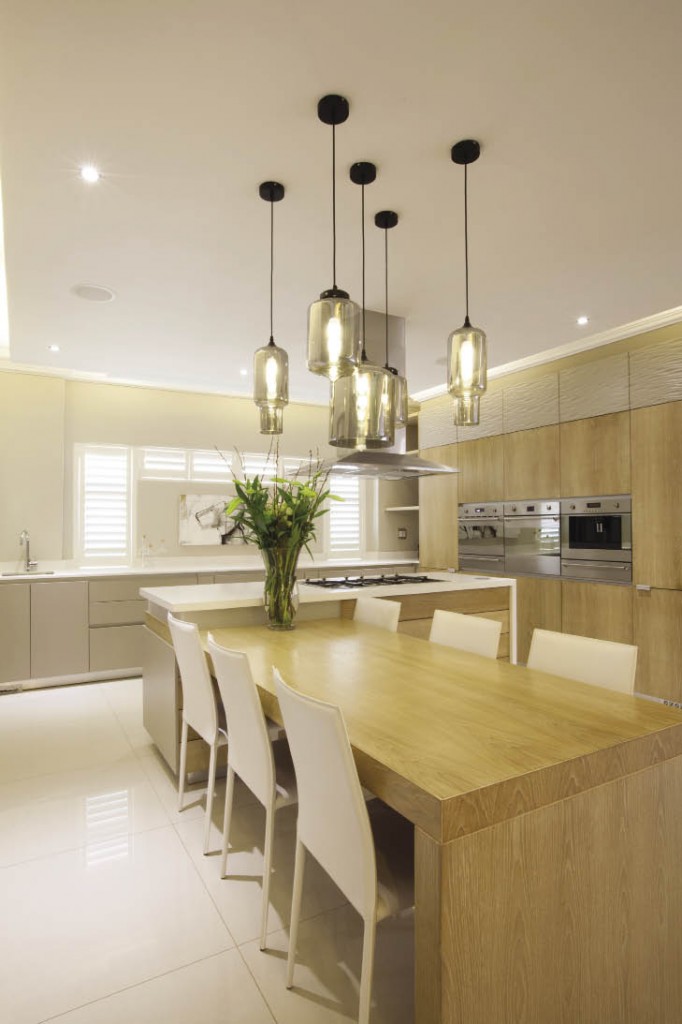 Beyond the sliding door leading from the main kitchen lies a completely different world, a second kitchen, with a different, yet beautifully complementary, style to the first – created in a warm, classic style, in Oatcake Duco with Desert Sands granite worktops. This clever synergy of functionalities and aesthetics ensures that the clients get the best of both worlds – traditional and modern design styles, with The Kitchen Studio perfectly identifying and meeting their clients' needs. Visit the Midrand showroom for more captivating styles.
Kando French Furniture specialises in various interior design services ranging from decorating spaces to designing bespoke French furniture. Its range includes beds, pedestals, chests of drawers, servers, dining and kitchen tables and chairs, as well as linen. The company was commissioned to create a warm, comfortable interior that reflects the family's "we live here" ethos. It achieved this through carefully selecting the furniture, wall coverings, fabric for upholstery and paint techniques, to create the overall mood of the various spaces within the home.
"I just love the French country-style… it invites you to exhale and relax. It has a calming effect on any person entering," says the lady of the house, adding that the kitchen is her favourite part of their home. She is passionate about cooking and baking, and although she has no control over how her family's day goes at school or work, the kitchen allows her some control over how it will end.
Miele supplied the integrated plumbed-in coffee machine, 76-litre oven, combi-microwave, food-warmers and DA5000 island extractor fan, all of which were made in Germany and built to last 20 years. While top-quality performance is critical, the quest for a seamless and fully integrated kitchen continues to play a key role in appliance design, particularly in open-plan kitchens such as this one.